First Look at the New SF7000 Receiver
First Look at the New SF7000 Receiver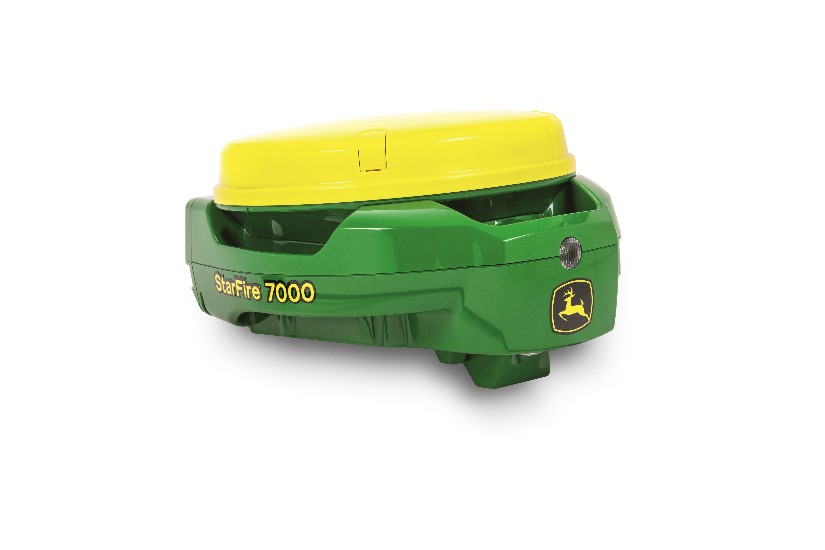 INCREASED PERFORMANCE WITH JOHN DEERE STARFIRE™ 7000 RECEIVER
The StarFire 7000 Receiver is the latest addition to John Deere's Precision Ag Technology. The SF7000 offers greater accuracy, faster pull-in times, and season-to-season repeatability.
RTK PRECISION WITHOUT THE RADIO
The StarFire™ 7000 Receiver offers a new correction level with accuracy like RTK Radio. The SF-RTK correction level provides 2.5-cm (1-in.) horizontal accuracy with no need for additional hardware - an improvement of 17% from previous StarFire receivers. Plus, the SF-RTK signal uses 2 additional satellite constellations (BeiDou and Galileo) as well as both GPS (US) and GLONASS (Russia) satellites.
StarFire 7000 Receivers simultaneously track correction signals from up to 3 satellites, then intelligently chooses the one that delivers the best performance.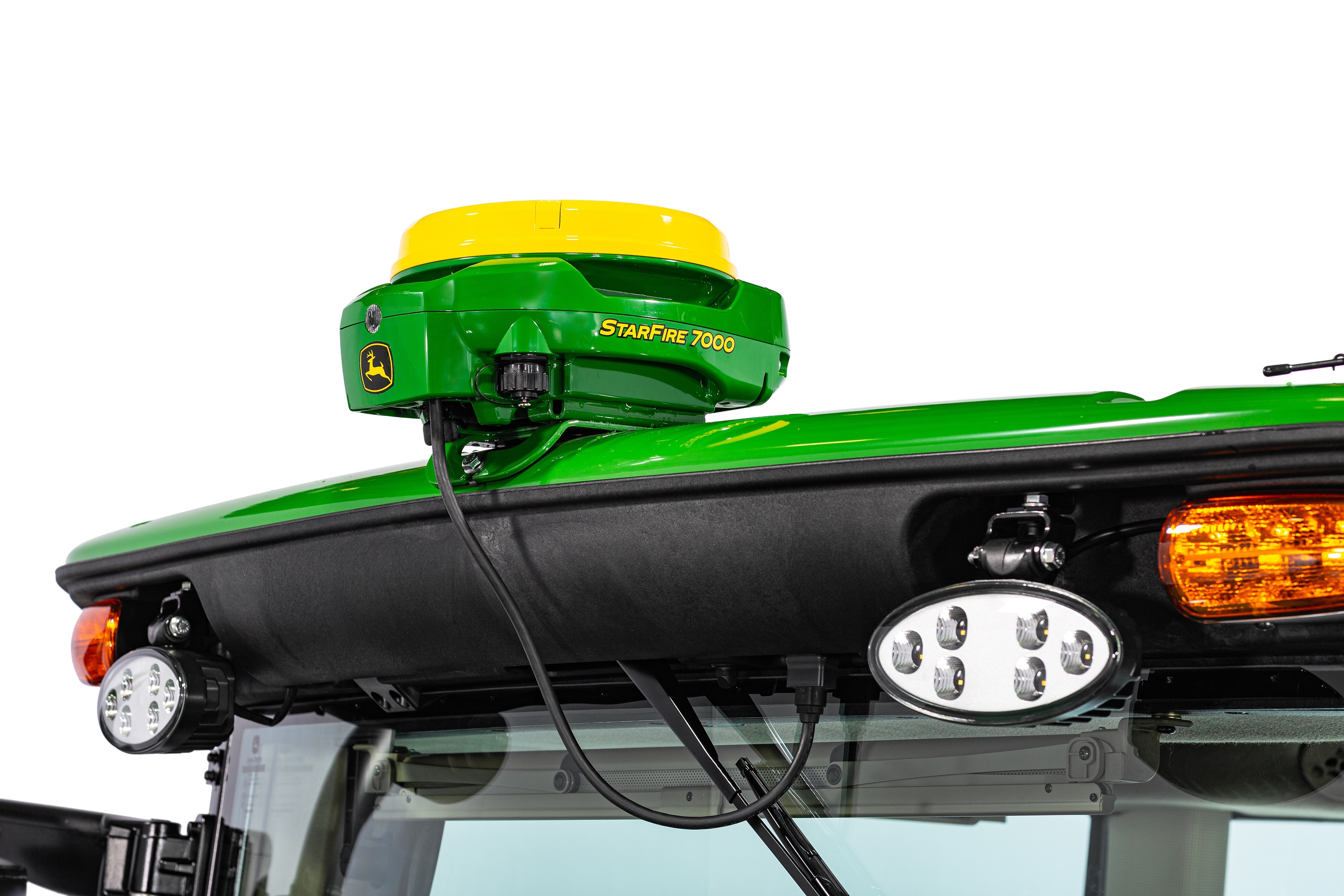 When the receiver moves into an area where the primary StarFire signal is blocked, such as near a tree line, it automatically switches to an alternate signal (if visible) to maintain accuracy and performance.
GET TO WORK FASTER
The choke plate hardware in the StarFire 7000 Receiver accurately directs GNSS signals into the antenna - creating a 66% reduction in the time taken to acquire an SF-RTK correction signal, meaning jobs can be done quicker.
The StarFire 7000 uses an integrated terrain compensation module (TCM) to adjust the machine position based on the terrain. The TCM adjusts for roll, pitch, and yaw motion to improve receiver and AutoTrac™ system performance when operating in challenging conditions such as hilly ground.
What is Advanced TCM Calibration?
As accuracy and repeatability continue to be more important to get to plant-by-plant accuracy, the StarFire 7000 offers an Advanced TCM Calibration feature.
Benefits:
Removes the guesswork out of positioning a machine and implement in the exact same spot when turning around.
Removes the need for a level surface.
Adds higher precision to the TCM calibration by gathering and comparing multiple points.
Calibrates both the machine and implement receiver TCM at the same time.
With Ethernet connectivity on the StarFire 7000 Integrated Receiver, you can save up to 60 minutes per year while performing over-the-air software updates to keep your technology in sync with the latest features.
THE SF7000 PROVIDES CONFIDENCE FROM YEAR TO YEAR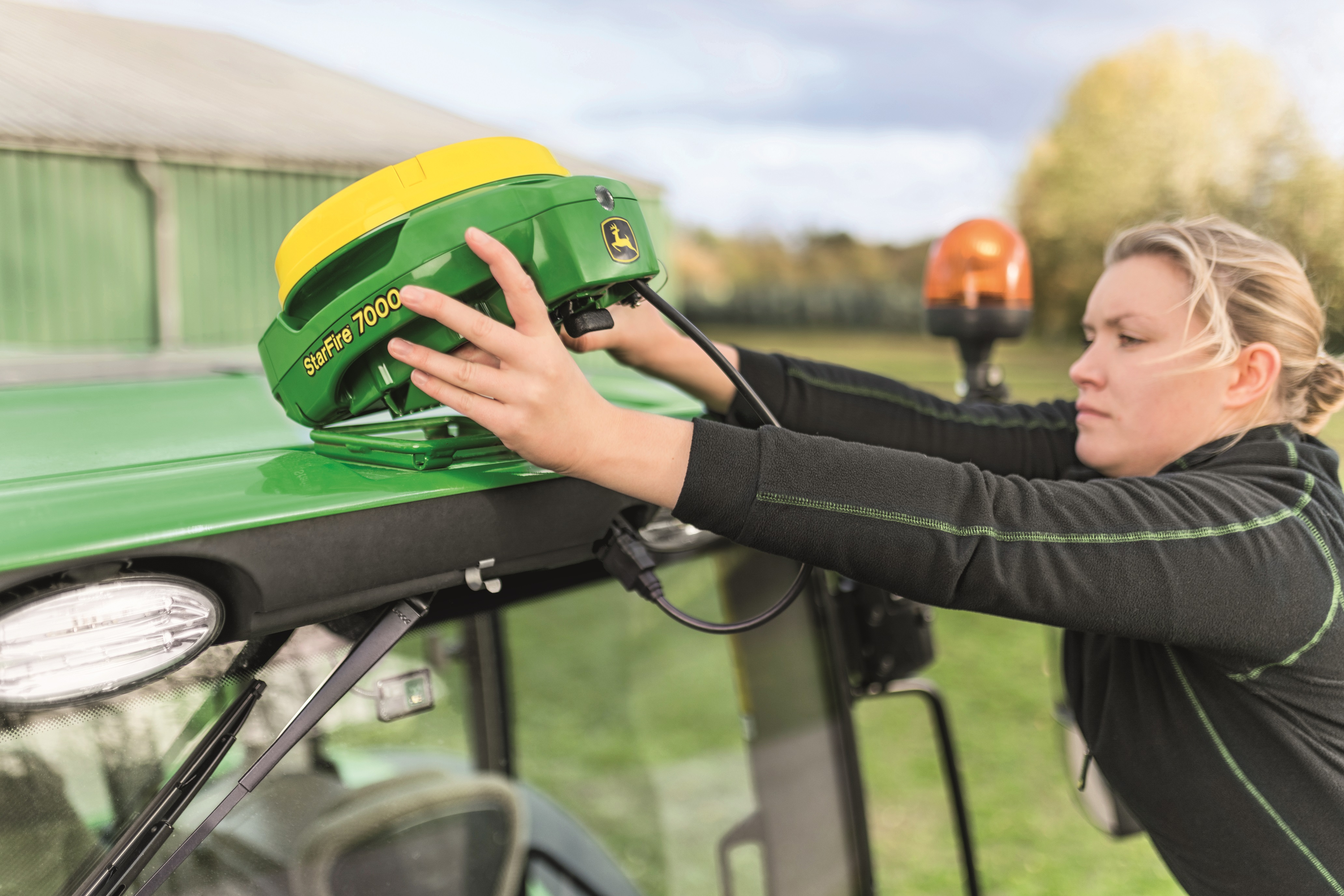 With the StarFire™ 7000 Receiver and SF-RTK correction level, you can have confidence from year to year that your guidance lines and boundaries will stay where they need to be. The StarFire 7000 Receiver has up to 5 years of repeatability guaranteed - an 85% increase from previous generations of StarFire receivers.
Value of repeatability
Repeatability defines how accurately the receiver calculates its position over a relatively long timeframe.
In-season repeatability is critical when using AutoTrac for multiple jobs throughout the growing season, such as creating AutoTrac guidance lines during planting, then using those same guidance lines to complete subsequent jobs like side dressing fertilizer, post-emerge spraying, and harvesting.
Long-term repeatability is critical when mapping boundaries for later use as input to John Deere Section Control on planters, sprayers, and fertilizer applicators. It's critical for growers that use the same AutoTrac guidance lines over multiple seasons for operations like subsurface-drip irrigation, controlled traffic, or alternating planter spacing between the rows from a previous season.
SF7000 Universal Serviceability:
The new SF7000 has 20+ serviceable parts compared to the SF6000 receiver. This means:
Lower cost to replace parts
Ease of part replacement
Increased receiver longevity
To have a look at the NEW SF7000, view our YouTube video here - https://bit.ly/3MEQEXE