Introducing the NEW Generation 2 Wessex AR Trailed Finishing Mowers
Introducing the NEW Generation 2 Wessex AR Trailed Finishing Mowers
Introducing the NEW Generation 2 Wessex AR Trailed Finishing Mowers
Building on 30 years of ATV innovation, Wessex have re-engineered their finishing mowers to create the most versatile one on the market. The versatility of Generation 2 Wessex AR Finishing Mowers makes them the first choice for maintaining regularly mown grass areas such as private estates, lawns and pastures.
What are the new design features?
They are designed with three rotors with overlapping baffles to ensure even grass distribution and the finest cut quality. Market-leading SwingLock Axel system enables you to easily convert your AR mower from side wheels into a rear-wheel configuration in less than two minutes, and with zero tools or extra parts required! Perfect for mowing close to a fence.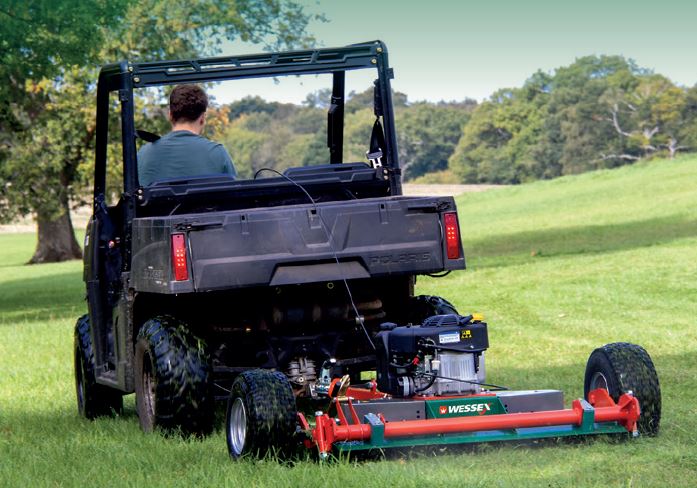 Available in 1.2m and 1.5m with a choice of pull or electric start and complete with a 12.5hp (electric start) or 13.5hp (recoil start) powerful Briggs & Stratton engine, the Wessex AR finishing mower will complement any ATV, UTV or 4x4 and leave a superb finish in the process.
Other features include:
SWINGLOCK AXLE SYSTEM

(patent pending) - easily convert your AR Rotary Mower from side wheels into a rear-wheel configuration with no tools or extra parts!

3 ROTORS WITH OVERLAPPING BAFFLES

– even grass distribution & the finest cut quality.

TURN BUCKLE ON THE DRAWBAR

– levels the machine for an even cut

DRAWBAR CAN BE OFFSET TO EITHER SIDE

– cut outside of the ATV wheels

THROTTLE LEVER WITH KILL SWITCH

– clips onto ATV rack for user convenience and safety

HEAVY DUTY BLADES WITH UPTURN ON TRAILING EDGE

– durability and strong suction effect

18 X 8.5-8 TYRES

– ideal for fine turf applications

POWERFUL BRIGGS & STRATTON ENGINE (B&S)

– choice of recoil or electric start

CENTRIFUGAL CLUTCH

–blades can be engaged/disengaged from the seat

SIMPLE BELT ADJUSTMENT

– both belts are tensioned simultaneously by a simple sliding action of the engine
View our YouTube video here -
Interested?
Please call our Groundcare Specialists, Paul Young on 07497 410332 or John Melling on 07944 953000 for more information.