W T Banks & Co Ltd
Stuart Banks from Sealand, Chester runs a 1300-acre arable farm specialising in potato planting and production. The machinery fleet consists of several John Deere tractors and he runs a small team, so they need their operation to run efficiently.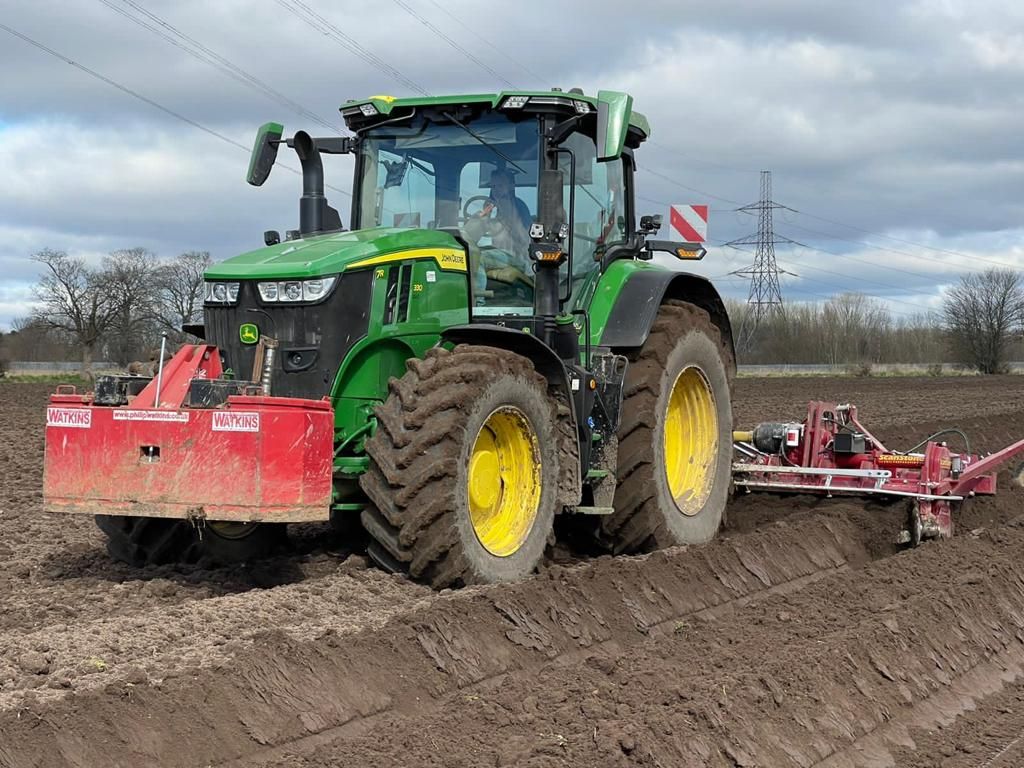 Huge Savings with Ag Technology
Stuart Banks' machinery fleet consists of several John Deere tractors. He runs a small team, so they need their operation to run efficiently. They use a 7R 330 for the rear drag cultivation system and a front set of discs and another 7R 330 running a bed tiller. They also have two 6155R Command Pros on de-stoners and another 6155R on a Grimme potato planter - all utilising John Deere telematics called JDLink™ and John Deere Operations Center to manage the fleet and monitor current production in the field. Section Control is used on the tractors for dry product application and planting. Using internal boundaries allows them to manage their headlands more efficiently, reducing passes and minimising compaction. Not only have they noticed saving with using Section Control, but Stuart also estimates a 5% saving on machinery costs from not overworking the headlands and maximising pass to pass accuracy using John Deere Mobile RTK. This reduces time and depreciation costs with increased repeatability year after year. "
"At first we were sceptical about adopting the new technology John Deere offered us, but we have soon seen the benefits with the ease of utilisation, quick set up and support from Cornthwaite Group, my local dealer. I can truly say I will never look back!" - Stuart Banks
All data is wirelessly transported back to his MyJohnDeere Operations Center, where it is utilised for prescription maps, live location and many more features.
Whilst Stuart was out of action for a couple of days at the start of the planting season, he was able to put a less experienced operator on the planting tractor. As the fields and field boundaries were already preloaded and Section Control was set up, it allowed planting to continue whilst Stuart could remotely manage the entire operation via Remote Display Access (RDA) on his mobile phone, tablet and laptop. He could even assist staff by sending his fertiliser applications and planting population prescriptions directly to the machines involved.
With a fertiliser cost of £200,000 per annum, he expects to see a saving between 5 - 7.5% by minimising the overlap across the field. Not over-applying helps maintain a constant yield across the field and results in a more synchronised crop maturity.
It costs £350 per acre on the seed potato side, but they are now achieving a saving of 6% across 1300 acres using the John Deere Precision Ag technology.
I have seen the value added to my company, so I am looking forward to extending the technology throughout the rest of my fleet. John Deere is exploring new technologies which will benefit my operation, and I am excited to see what the future holds." – Stuart Banks
With JDLink™ on these tractors allows Cornthwaite Group visible access to these machines, offering them proactive, connected support from Cornthwaite Group's Service department. They can diagnose and treat problems before they potentially arise.
"The aim is keeping Stuart running during the busiest times, maximising uptime, therefore making his operation run more efficiently," - Andy Lomas – Technical Advisory Manager at Cornthwaite Group.