Scarifiers
The high-performance STIHL petrol lawn scarifier RL 540 removes moss and lawn thatch from even larger lawns quickly, conveniently and cordlessly. Driven by a powerful petrol engine, the scarifier ensures optimal lawn aeration. The scarifying unit can be conveniently set to the required working depth on the handlebar. This effective complement to your lawn care takes just a few steps per year. Proper scarifying fundamentally improves the supply of nutrients to your lawn and promotes its growth in the long term.
Thanks to the working width of 38 cm and the easy-running wheels with special tread, you have all the manoeuvrability and agility you need for your twice-yearly lawn aeration with the STIHL RL 540. The sturdy polymer housing is tough enough to withstand even long-term use. For easy transport, the scarifier is also equipped with a carrying handle. The handlebar can be folded in just a few steps, so that the lawn scarifier can also be stored compactly.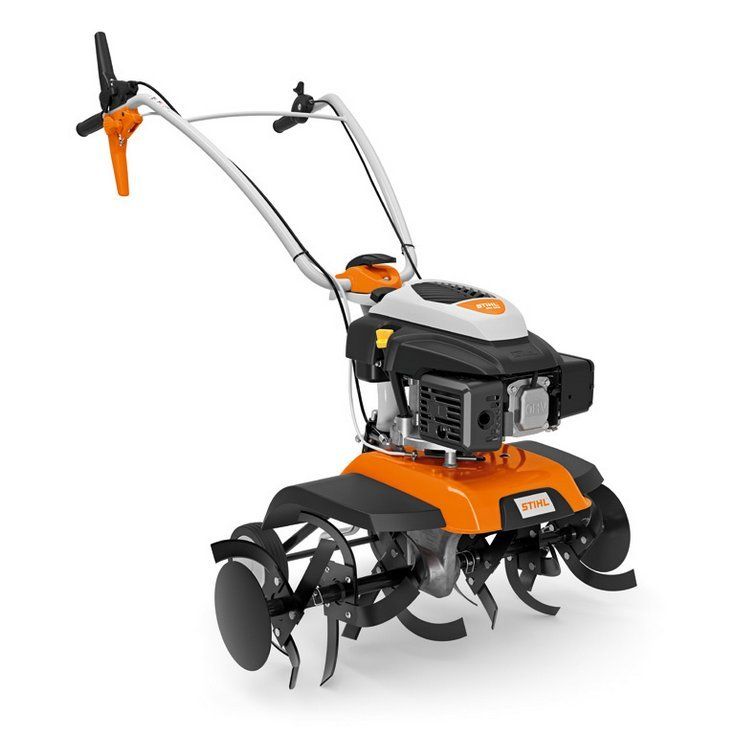 Tillers
The basis for all growth – and a lot of work – is found in healthy soil. To ensure that tilling does not bring you out in a sweat, our powerful tillers tear up and turn over the soil while you effortlessly control the direction.
The STIHL tiller MH 585 is a versatile multi-purpose machine ideal for medium-sized plots of land and larger garden patches. The engine is powerful enough to turn over firm ground efficiently. This tiller is perfect for creating new gardens adn flower beds as well as preparing seed beds for vegetable crops. In order to tend crops positioned more closely together with greater efficiency and care, you can divide the hoe set on the MH 585. This reduces the working width to 60cm. Other models available are the MH 445 & MH 445 R.
Shredders
Your own garden is a place for experiencing freedom and recharging with energy. Our shredders create space for the essentials. Thanks to their powerful petrol and electric motors and innovative cutting systems, they transform woody as well as soft garden waste into mulch or composting material in next to no time.
The high-throughput electric shredders are suitable for a wide range of tasks thanks to the broad product range. From occasional shredding of small quantities of green cuttings to regular breaking up of thick branches, there is a model for every purpose.
Petrol shredders are the obvious choice for processing large quantities of shredding material without needing to have a plug socket. With their especially powerful petrol engines, they have sufficient power reserves to be able to shred even thicker branches, without being tied to one place.